Click on the area you'd like to view >
or select a city below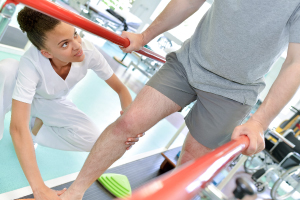 Physical Therapy Facilities
Physical therapy facilities diagnose and treat the injuries or illnesses that may limit one's movement or ability to perform the functions of daily living.
Physical therapists will perform a physical examination, and along with the patient's medical history will prepare a diagnosis and a plan to manage the condition. Therapists often use the results of X-rays, CT-scans or MRI results, along with electrodiagnostic testing on occasion.
The therapies employed may include specific exercises and manual manipulation, as well as traction, heat, cold, sound waves, radiation and other modalities.
Physical Therapy Facilities